All Ears Elephant
£5.99
Feel Me Fish
£5.99
Flip Flap Dragon
£14.99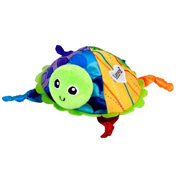 Flip Flop Fred
£5.99
Foot Finders
£5.99
Grip & Grab Flower
£4.86
Little Grip Rattle Mouse
£6.99
Pull & Play Puppy
£6.50
Torin The T-Rex Hide and Seek Book
£11.99
Wrist Rattles
£5.13
In keeping with the Lamaze brand mission of helping baby grow, discover and learn, Learning Curve have introduced a new line of high contrast toys for babies from birth and up. The new Lamaze toys are geared towards encouraging the development of baby's vision.

These toys are made with soft, premium fabrics, and incorporate high contrast patterns, bright colours and feature beloved animal characters and they are packed with developmental features. This new line includes teethers, rattles, and a number of other toys to entertain and engage baby.

The Bend & Squeak Penguin and Panda are so cute and perfectly sized for little hands. With the use of black and white they are great for newborns who can more easily see these contrast colours, and they squeak and crinkle too!