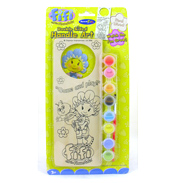 Double Sided Handle Art
£2.99
I think Fifi could do with some help organising her party at Forget-me-not Cottage. She needs someone to go and get her some more milk from Poppy's market stall. Fifi is always busy doing something. She's either in her garden sowing seeds and growing all kinds of things or she baking nice things with all of her fruit and vegetables. Watch out for Slugsy and Stingo if your helping Fifi with the baking for the party though, they're always trying to trick the flowertot friends into giving them nice pies or cakes.

The show was created in 2005 and centres on the activities and adventures within a garden with a group of flower based characters. The title character, Fifi, is a lovable little Forget-Me-Not that inhabits the magical garden world with her Flowertot friends. Fifi loves nothing better than to be cooking away in her kitchen. Her garden is organic so she uses her own natural ingredients. She loves to be outside, looking after her garden, exercising and taking care of her environment. As her name suggests, Fifi can be quite forgetful and when she is trying to think of the word for something she often asks the viewers at home or her best friend, Bumble (a bee), for help. Living alongside lots of other flowers in the garden such as Primrose, Violet, Daisy and Buttercup are two little rascals that you will need to keep your eye on. Stingo is a very lazy wasp who thinks himself to be very clever. He loves to cause trouble with his best friend Slugsy, a clumsy slug who has a bit of a crush on Primrose.
Play sets have been re-created using scenes from the Fifi & the Flowertots series, to help kids to interact with her amazing adventures. These toys are a must for any young fan of the show.