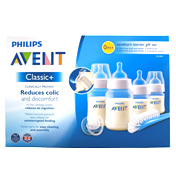 Avent Classic+ Newborn Starter Gift Set
£19.94
Nuby One Touch Electric Bottle & Food Warmer
£18.99
Look no further, on this shelf you will find a fantastic selection of feeding sets and storage items designed to make your life a whole lot easier. We all know that it can be hard work feeding and caring for a baby so anything that makes it easier and gives you more time has got to be good.

If your baby has got to the stage where he wants to feed himself, the Chicco Easy Meal Decorated 5 Piece Meal Set is the one to go for. The angled fork and spoon make it a little easier for the child to grip and hit his mouth but be prepared it will get very messy! Your child will love this brightly coloured set and he will have a great time learning to feed himself.
Sometimes the old favourites appear again for example the Philips Avent Baby Divider Plate. Divided into 3 sections for main course, pudding and perhaps bread soldiers.

On this shelf you can find Philips Avent Breast Milk Storage Containers and Via Disposable Feeding System, both can be used for storing breast milk or formula, useful for popping in the fridge ready to use later. If you are going out for the day take your child's sandwiches etc in one of our Winnie the Pooh Semi disposable All Purpose Containers.