Infant Car Seat Leveller
£7.99
Seat Back Organiser with Tablet Pocket
£12.99
Secure-Belt Travel Pillow
£9.99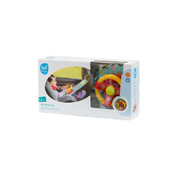 Taf Toys Car Wheel Toy
£26.99
Taf Toys Musical Car Toy Owl
£32.99
Waterproof Seat Pad
£11.21
Here you will find a number of items to accessorise your child's car seat, from seat belt adjusters, positioners, travel pillows and many more. On September 18th 2006 the new regulations for children using car seats were brought into action. Now a child who is younger than 12 years old and under 135cm has to use the correct type of child seat with the correct type of restraint. To see which type of restraint is right for your child look below:
| | | | |
| --- | --- | --- | --- |
| Groups | Weight | Age (approx) | Description |
| 0 | Up to 10kg (22lbs) | 6-9 months | Rearward facing – 3 point harness |
| 0-1 | Up to 13kg (29lbs) | 12-15 months | Rearward facing – 3 point harness |
| 1 | 9-18kg (20-40lbs) | 9 months-4yrs | Forward facing – 5 point harness |
| 2-3 | 15-36kg (33-79lbs) | 4-11yrs | Forward facing – adult seatbelt |
You will probably find when looking for a car seat, the different stages of restraint are listed in groups (as above). It is recommended to keep the child in either a group 0/0+ seat for as long as possible, either until the child weighs more than the maximum weight for the seat or until their head is higher than the top of the seat. The reason for this is that rearward-facing seats offer more protection to the child in the event of an accident, giving more support to the head, neck and spine. A lot of car seats will cover more than one group for example and some car seats cover groups 1, 2 & 3 going all the way through from 9months to 11yrs. They simply adjust to suit; each time your child reaches the next stage e.g. they have a removable harness and back rest. Always make sure you refer to your seat's user manual to find out the correct way to do this and the appropriate time to do so. All seats can be used in the front or rear of any car, although research shows it is safest to put the seat in the rear of your car. If your car has a front passenger airbag you will need to check with the manufacturer of your vehicle as to how far it comes out, to see if it is safe to be used with a forward-facing seat. But NEVER use a front passenger airbag with a rearward-facing seat as this can be very dangerous. (Some car manufacturers now have switch-able front airbags please check with your car supplier/handbook for this information. At all times read the child seat manufacturer's instructions and check for additional information from your car's handbook.)
The information provided here is of a general basis only and does not constitute fitting advice - specific information should always be followed from that given by the individual manufacturers.