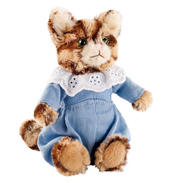 Beatrix Potter Tom Kitten Small Soft Toy
£9.90
Benjamin Bunny Medium Plush
£13.99
Benjamin Bunny Plush (LARGE)
£17.99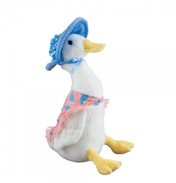 Jemima Puddle Duck Plush (LARGE)
£16.99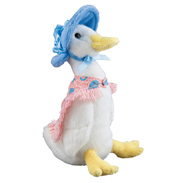 Jemima Puddleduck Medium Plush
£13.99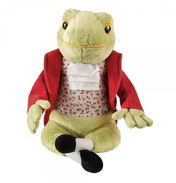 Mr Jeremy Fisher Large Plush
£16.60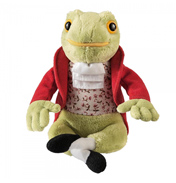 Mr Jeremy Fisher Medium Plush
£13.99
New Baby Money Bank
£18.99
Squirrel Nutkin Large Plush
£16.99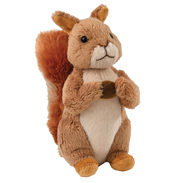 Squirrel Nutkin Small Plush
£11.99
Tale of Tom Kitten
£4.70
Beatrix Potter is one of the most famous of children's authors. She grew up in Victorian England, was home schooled by governesses and developed a love of art and nature. Her most famous creation was Peter Rabbit, a youngster who has a habit of disobeying his mother and continually sneaks off to steal vegetables from Mr McGregor's garden where he nearly always gets caught. Mr McGregor and his wife Mrs McGregor don't like the rabbits eating their vegetables, so they are always trying to catch them to make them into a rabbit pie. The story came about through a letter that Beatrix wrote to a young boy in 1893. The five year old son of an ex-governess was ill in bed and so she wrote the story to cheer and comfort him. Years later, after being rejected by several publishers, the book was printed and sold in 1902.

Beatrix Potter went on to write and publish a further 22 books some of which developed the character of Peter Rabbit. As you can already tell, he's quite a naughty rabbit. He has three sisters named Flopsy, Mopsy and Cottontail and also a cousin, Benjamin Bunny. The pair of them are usually up to no good. Sometimes Benjamin even leads Peter astray! All of the animal characters were met with fondness and huge success has come particularly from the popularity of such characters as Jemima Puddleduck and the delightful Mrs Tiggy-Winkle. The stories are amongst the favourite tales that parents read to their children and many people know the characters even if they have never actually read the books.
The range of toys that has developed in their beautiful pastel colours make ideal presents for children to celebrate their birth and/or baptism. They will take pride of place in any nursery and will not fail to raise a smile from all who remember them.