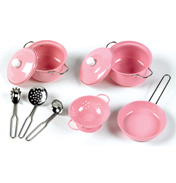 Pink Cookware
£21.99
Welcome to our Tidlo Role Play Shelf. All children whether a boy or a girl, love playing pretend games. Little girls generally love to play alongside mummy and imitate the things that she does around the house, little boys love to help daddy especially if he is a joiner.

With all our wooden kitchen appliances you can construct a scaled down version of your own kitchen and then let your child's imagination run riot. All she needs now is some toy pots and pans and she will be occupied for hours, so will you because she is sure to want you to play too. She will love to bake pretend cakes in the oven, store things in the fridge and cook with the microwave, she might even offer to wash up for you in the sink.
Some little boys may love to play with the kitchen too, however if that doesn't appeal then have a look at our wooden Workbench. This comes complete with wooden tools, nuts and bolts and numerous pieces of wood with holes in all ready for your child to construct whatever he wishes- possibly not a table and chairs just yet though!