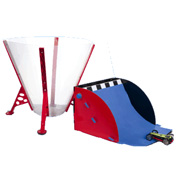 Cyclone Force Stunt Set
£10.00
You've heard of radio controlled cars, well what about laser guided?! These cool Lazer Stunt Cars magically follow wherever you shine the laser beam.

Place the car on the floor and get set for some crazy driving! Power up your controller, pull the trigger and watch the car follow the laser beam wherever you shine it! Zoom down the corridor, make a speedy u-turn and come back or make some 360 spinning moves!

Once you have mastered the controlling it's time for some serious stunt fun! In this category you'll fins some fantastic stunt sets which enable you to test your Lazer Stunt Cars skills! Zoom up the ramp and see how much air you can get! Or, why not get even more serious and try out a double loop before the epic stunt jump.

The Lazer Stunt Car will bring serious fun to any youngster's toy car collection!