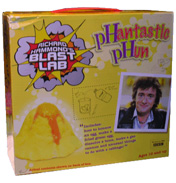 Phantastic Phun
£9.50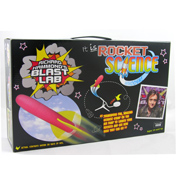 Rocket Science
£14.54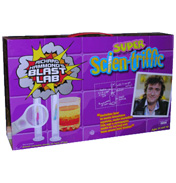 Super Scien-triffic
£19.38
Richard Hammond (also known as 'Hamster' as he is quite small, chews on cardboard and has very white teeth!) is a well known TV personality featuring on top television shows such as Top Gear and previously on Braniac Science Abuse. He also has a very popular science based programme on children's TV channel CBBC called Richard Hammond's Blast Lab which is now onto its fourth series and has won a BAFTA award for its ingenuity.
On this show children have to compete against each other in crazy scientific experiments to win prizes at the end of the show and of course gain their utmost respect from fellow challengers. The chaotic game is set in a surreal imaginary world of Hammond's secret lab located beneath a watermill in a country house, all studio based in reality though. The biggest laugh of all comes when the losing side have to blow up their prizes as penalty for losing (Blast Lab Blow Ups) – hence the name Blast Lab.

Richard's fun and lively personality is well suited to the show and the success of which has led to the release of a series of Blast Lab toys, games and merchandise to accompany the show. Bright ideas for fun include the kit Messy Mess which has loads of really messy, gooey slime and gunk and splendidly horrid experiments to try at home and the recommended items required are found in most homes. We suggest making sure the table is well covered or working in the garden though as it will get messy!

The Blast Lab Phantastic Phun Set includes the very popular trick – how to bounce an egg, plus how to make a fried egg green, dissolve a bone, and weird things with a cabbage and many more hands on experiments to take part in.

Richard Hammond's Blast Lab Fingerprints has stuff you need to help keep your makeshift lab secure and identify any intruders with all sorts of fingerprint fun and another set of wacky home experiments are included in the Super Scien-triffic set which again utilises everyday objects found in the home in a series of bizarre, yet fun activities.

The games are aimed at ages 10+ however if parents get involved younger ages may be suited too, as long as they have sufficient adult supervision. Indeed mums and dads are just as likely to want to get involved in this Blast Lab excitement, we know we do!