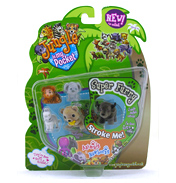 Jungle in My Pocket 5 Pack
£6.14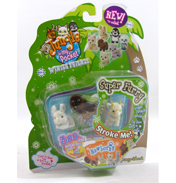 Jungle in My Pocket Newborns
£3.99
This range of toys of Rainforest Animals in my Pocket is so called because they can actually fit into a pocket so this makes them perfect for travelling or visiting friends. Plus when children have something hidden on their person it makes them feel really special – just remember to check their pockets before their clothes go in the washer though!

In the tropical rainforest there are all sorts of creatures including mammals, reptiles, birds, amphibians and arthropods (butterflies). This delightful range of characters helps kids learn all about these wonderful things. Start collecting these figures today as well as the poster cards which come in each pack which can be joined together to make a big picture.
If you are anything like us our knowledge is a little bit rusty so the Tropical falls packs are a great reminder about some of these weird and wonderful animals.

Each creature is named for fun too, from Bella the Rainbow Boa, Patrise the Macaw, Mikey the Macaque to Doughnut the Tasmanian Devil. Other figures available include birds such as the Cockatoo, Lorikeet Parrot and Toucan. Mammals include the Gorilla (look at his hut), Okapi (looks like a cross between a Zebra and a short giraffe), Macaque monkey, Marmoset, Tasmanian Devil marsupial, Mandrill primate, Bonobo chimpanzee and an Anteater. Reptiles include the Chameleon, Lizards like the flying dragon and frilled lizard, Gecko and Iguana, plus many more. For all of you jungle fans out there, keep moving to the jungle beat with these cute little rainforest animals.