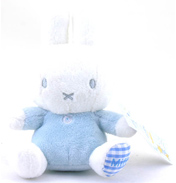 Miffy Bean Rattle
£7.99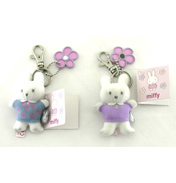 Miffy Keychain
£4.09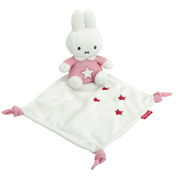 Miffy Pink Cuddle Cloth
£12.99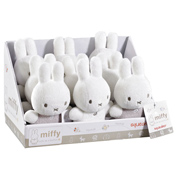 Miffy Squeakers
£5.70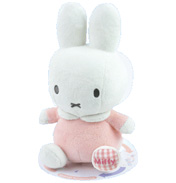 Miffy Turnaround Musical
£13.99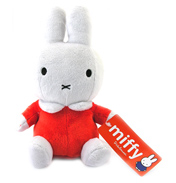 My First Miffy Plush Toy
£13.45
We'd like to introduce you to Miffy. Created by Dick Bruna in 1955, after telling his son stories about a little rabbit they had seen on holiday, she is a picture book character in the form of a small female white rabbit. Currently in 2011 there are almost 30 different Miffy books with many other characters now involved in the stories. Here you will find everything from plush toys and cushions, to rattles and mugs, all featuring the classic Miffy design.
Each Miffy book has an illustration on one side of the page and four lines of verse on the other. The stories are always about things that children can relate to, and situations they will face such as going to hospital or going to school, and a happy ending is always guaranteed. Some books such as Miffy's Dream contain no text just illustrations.

Members of her family also appear in the books. They are her parents, Mother and Father Bunny, Grandma and Grandpa Bunny, Aunt Alice and Uncle Pilot, who is not her real uncle just a family friend. There is also a new baby who may be a boy or girl we don't know yet! Among her other friends who make an appearance are Poppy Pig and her niece Grunty, Boris and Barbara Bear, Melanie her pen friend and Snuffy the dog.

Lots of wonderful gift ideas to welcome a new baby like the Little Star Chime Ball, Little Star Loop Rattle and Little Star Bean Rattle all available in pink or blue. For the older child or even adult there is the Classic Miffy Mug in Gift Box, Classic Miffy Trinket Box or Keychain. Take your pick from these cute and cuddly toys and remember always look forward never look back, just like Miffy!