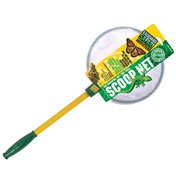 Mini Scoop Net
£6.99
Children can discover a whole new world with the Backyard Safari collection. These little adventurers can head out into the garden and search for creepy crawlies to examine and research. These products have a great education value whilst keeping them in touch with nature and learning about the world around them.

When a little bug or flying critter has been spotted your child can chase after it with the Mini Scoop Net – which can even work in water too! Once safely in the new you can transfer it to one of the Backyard Safari storage containers like the Critter Shack where you can observe it through the clear panels. Don't worry; there are plenty of air holes so your new friend can breathe!

But, what happens if you're a little nervous of these creatures and you don't want to touch them by hand? Backyard Safari has created this really cool device known as the 'Bug Vacuum'. It sounds a bit wild but it's really safe and gentle. Just pop the nozzle near the insect in question and power it up. The bug will flow up into the chamber where it can be removed and safely passed through into the Land & Water Habitat – without even touching it!

Also available is a compass, field scope and more. Little adventurers will discover a teeny tiny world that they never realised existed!