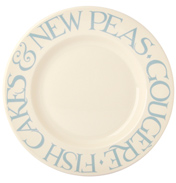 Pale Blue Toast 10½" Plate
£19.90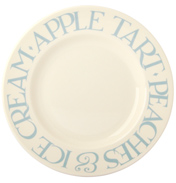 Pale Blue Toast 8½" Plate
£16.90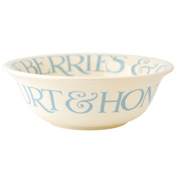 Pale Blue Toast Cereal Bowl
£18.99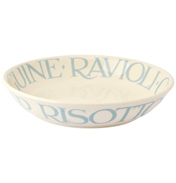 Pale Blue Toast Medium Pasta Bowl
£19.99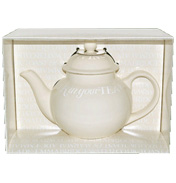 White Toast Boxed Four Cup Teapot
£49.95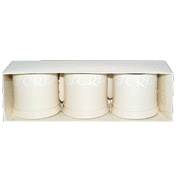 White Toast Mini Mug Candles
£30.75
One of the newer designs from Emma Bridgewater is called White Toast and for all of you who know and love Black Toast you will appreciate where this one is coming from! The same clean lines for lettering as designed by Matthew Rice are applied by transfer rather than sponge to get a really neat clear edge to the lettering. Each piece is still made by hand though to the potter's exacting standards to the high quality we all expect from this handmade pottery.
Cool white text on warm cream pottery gives this range a very classy look and it suits both modern minimalist interiors as well as the more traditional period home. It 'doesn't shout out hey look at me' but still is eye catching enough to make a beautiful dining room display. Emma Bridgewater's White Toast is a perfect for a starter dinner service for your wedding list, with its very apt colouring, and as you use it for your first candlelit dinner together the pottery sits beautifully glistening in the flickering candlelight.
As a full service it looks a little bit posh so can easily be used for all of your celebration dinners, yet somehow it also fits in for everyday use – particularly when mixed with some of the few coloured pieces included within this collection, or alternatively other more colourful Emma Bridgewater items. Cleverly the team at Bridgwater have used a pale powder blue and muted pale green to sit along side the cream, both colours very much in vogue in interior design at the moment. Both new colours are calming and serene – with real ethereal beauty. The White Toast pale baby blue mug is perfect for christening or birth gifts for new baby boys and the white on cream is also ideal for such gifts.
Some of us just don't do colour, or are not quite sure how to use it mixed in with their decor and this is where White Toast comes into its own. It mixes well with all colour schemes and furniture and can be used equally well in the kitchen as well as the dining room setting.
Try one of the white toast plates for a crisp attractive salad, or the white toast pasta bowl filled to the brim with your favourite Italian tomato & basil spaghetti – simple colours let the food speak for itself.
For display purposes use the White Toast teapot as a centrepiece on your shelf – sitting next to the 6 different coloured/sized mugs for a very tasteful pottery arrangement.