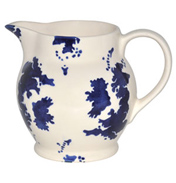 Great Britain 1/2 Pint Jug
£19.95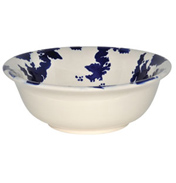 Great Britain Cereal Bowl
£17.95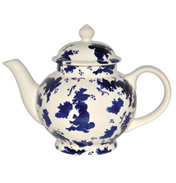 Great Britain Four Cup Teapot
£49.95
This quirky new design is based on the outline of the map of the British Isles, a funky take on a traditional image.
From a distance it looks like an elegant sponge wear pattern in an abstract design but on closer inspection it reveals its true beauty and the familiar outline of the islands we love and call Great Britain – the birthplace of Emma Bridgewater. Well, given that they are so very proud of where the pottery is made it makes sense to splash it all over one of their designs, and as ever they still manage to make it look incredibly elegant and unique.
The pottery has the well known Emma B cream base with a royal blue coloured pattern to the outsides of the pieces. The collection includes the standard mug and plate shapes as well as a teapot, and three types of bowl in the Cereal, French and Pasta designs. The Great Britain tea towel is good fun too, as well as being very practical and suitably impressive on display.
Great Britain is actually surrounded by some 1,000 smaller islands and even smaller islets and the design shows a few of the better known ones – can you spot the Isle of White, Lundy, Arran, the Western Isles (Outer Hebrides), and Orkney Islands? We don't think it stretches as far as Shetland though. Plus you won't see the Isle of Man as strictly this isn't part of the United Kingdom.
A visual treat and so very eye catching, so choose Great Britain for yourself most importantly and if pushed you may be persuaded to buy some for others too!