Welcome to our September Health newsletter at WWSM. This month we focus on vitamins for children. See below for details of the special offers on all these products, using our voucher code system.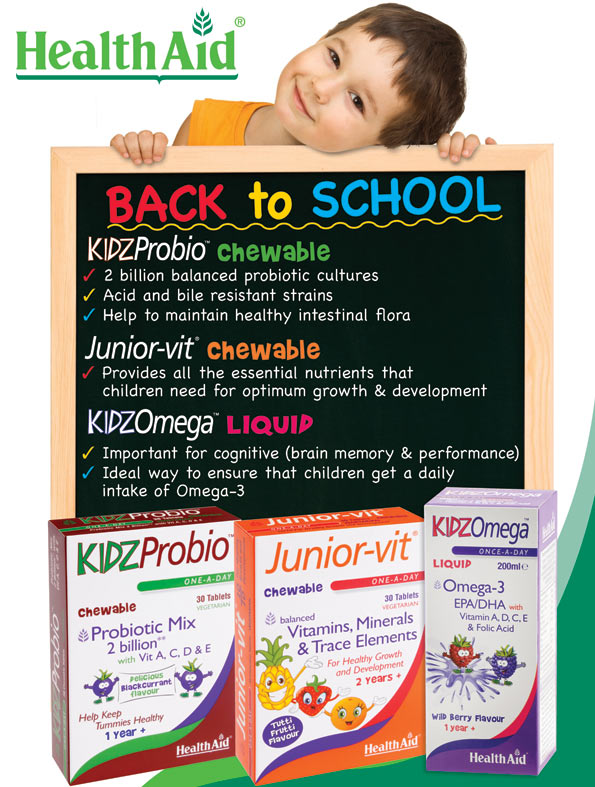 Fight infection with good nutrition
Its back to school, and time for all of us to optimise the well-being of our little darlings from bouts of colds, respiratory illnesses, intestinal viruses and other infectious that are constantly present in schools. HealthAid have a variety of products to help your youngsters fight infections and stay healthy – no matter what their age!

Junior-vit tablets, a balanced multivitamin and mineral formulation that is rich in B Vitamins, Iron and Vitamin D, offer optimal support for strong bones, healthy teeth and a sharp mind, enriched with essential trace elements, bioflavonoids and fructose oligosaccharides (FOS) for a healthy skin and digestive system.
20% OFF FOR 1 WEEK WITH VOUCHER CODE DDJV09

KidzOmega liquid provides a rich source of Omega-3 essential fatty acids EPA and DHA which has many benefits; they help with the cognitive functions of the brain, good for joints, skin and play an important role in maintaining a healthy heart.
50% OFF

KidzProbio tablets helps to enhance the absorption of vital nutrients, assisting the digestive system and simulate the body's production of immune-boosting substances. it is particularly beneficial, if the child has been on antibiotics, as it is extremely important to replenish the good bacteria lost by taking a quality probiotic supplement "Taking a nutritional supplement daily can help kids stay healthy and focused throughout the school year"
20% OFF FOR 1 WEEK WITH VOUCHER CODE S9HA11

---

---
World Wide Shopping Mall
Chancery Lane
Malton
North Yorkshire
YO17 7HW
UK

Tel: 01653 602 880
Fax: 01653 602 889

---

20% Off Junior-Vit with code DDJV09

20% Off Kidz Probio with code S9HA11

KizOmega is already discounted, so no code needed.
---