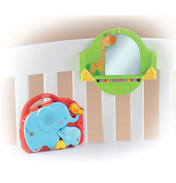 Crib n Go Projector Soother
£34.99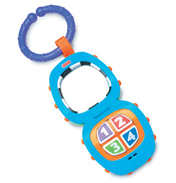 Fun Sounds Flip Phone
£5.49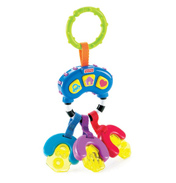 Musical Teether Keys
£8.99
The Nursery section from Fisher Price is filled with fun toys and helpful early learning aids that both you and your newborn will love!

All of the exciting baby products on this shelf are so colourful, quirky and interesting that your child won't be able to resist. These are all designed and built with your baby's learning and safety in mind.

Many of these Fisher Price baby toys will introduce your baby to letters, numbers, colours, and much more! Some items are designed to make your life a little easier too, such as helping them get to sleep. The Rainforest Peek-a-Boo Waterfall Soother is a great example; the soothing waterfall effects and gentle music will create such a relaxing atmosphere.

The Fun Sounds Flip Phone is a good example of the standard baby toys here. Now they can be just like mum and dad, but also learn about numbers and colours too! It also features a handy clip, so you can fasten it to the pushchair without falling off!

If you're a mum to be, or already a parent, these Fisher Price toys provide everything your baby needs to get a head start in life.