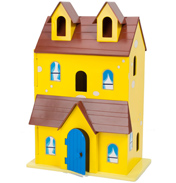 Fun House Playset
£38.84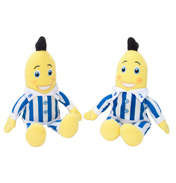 Mini Soft Toys
£6.65
If you were a youngster in 90's then you've got to remember the Bananas in Pyjamas TV show. If your memory is a little vague then you're sure to remember when you hear the classic theme tune about them coming down the stairs! These two fruits first hit the screens back in 1992, and after 10 years the show came to a halt.

In 2011 it was re-launched and the new generation quickly fell in love with the two Bananas In Pyjamas, formally known as B1 and B2. Living down 'Cuddles Avenue' they get up to all sorts with their various friends, including Amy, Lulu and Rat-in-a-Hat. The Bananas love to have fun, and singing is definitely their speciality! Kids are sure to love them, especially with the silly catchphrases such as "Are you thinking what I'm thinking, B1?" "I think I am, B2"!
Our most loved Bananas in Pyjamas toy has to be the Talking B1 and B2 figurine set. Kids can mouvre the articulated figures around and re-create their favourite scenes from the show. When their top button is pressed you'll hear the funny sound effects and quirky catchphrases.

At long last, the energetic two are back! This time you can join in the fun with these fabulous Bananas in Pyjamas toys!