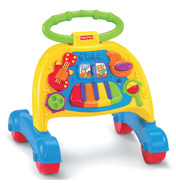 Brilliant Basic's Musical Activity Walker
£29.99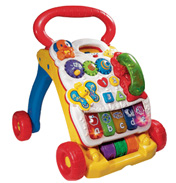 Vtech First Steps Baby Walker
£34.99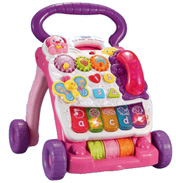 Vtech Pink First Steps Baby Walker
£29.99
There are two different types of baby walkers; the sit in walker with wheels attached to a frame and the push along walker. Both of these walkers can be used to help, develop and encourage a baby to walk.

The majority of sit in walkers are suitable for babies from aged around six months old. The seats are usually padded, very comfortable, easy to remove and wash and are also height adjustable so as your baby gets bigger you can just raise the seat up a little. You basically just pop them in the seat making sure they can just touch the ground with their toes, and then they can start to develop the strength they need to move around in their walker.

Until they start to move most walkers have fun activities on the front to keep baby occupied like the Chicco Dance Baby Walker. This walker has a computer styled front panel and you can even plug in an MP3 player so baby can listen to their favourite music as they 'walk' around.
Obviously with a sit in walker safety is a big factor; for starters a baby that would probably not yet be mobile will be racing around your home so you have to make sure everything is baby proofed including stairs, cookers and cupboards. As long as you keep a close eye on your speedy baby this product is sure to be very popular.

Once your baby has started to find their feet themselves by either standing up or cruising around the furniture, they may be ready for the push along walker. They are great as they give them just the right amount of help to get their balance or to give them something to lean against whilst they take their first steps. Some walkers like the Step Start Walk n Ride by Playskool also convert into a ride on for when your baby is a little older.

Overall two very useful products that can be used at different times during your baby's development. The sit in walker from about six months until they are around a year old and the push along walker from when they start standing and cruising, so you could choose one of each!