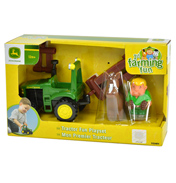 1st Farming Fun Tractor Fun Playset
£12.99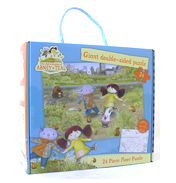 Abney & Teal Floor Puzzle
£12.96
Abney and Teal are two adorable characters from the well-loved television programme 'Abney & Teal' on CBBC. The pair live on a tiny island in the middle of a park lake, with the hustle of the big city around them. In each episode we see the duo head out on an adventure of exploration and discovery, often bumping into their good friends who join in the fun.

The programme helps your child to develop their imagination through humour, adventurous play and storytelling. It encourages the child to become involved with problem solving and social development through friendship and play.

The Abney and Teal toys in this shelf cover a range of educational products and cute little soft toys that you just can' help to cuddle up to. The 30cm Rag Dolls (Abney or Teal) are sure to be a big hit. The cute characters looks just like they do on the TV, but this time your child can take them around their own adventure.

The Mix and Match cards are a great idea to get your youngster interacting with their favourite characters. Match the pictures up with the numbers and learn about early number counting.